Meet our JDRF Global Legacy Challenge Sponsors
Murray Levin, JDRF Legacy Challenge Sponsor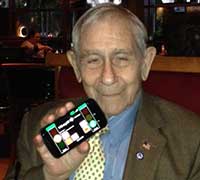 Murray Levin has seen the misery chronic diseases such as type 1 diabetes (T1D) cause. That's why, when asked to sponsor the JDRF Legacy Challenge, he was excited to support the important research done by JDRF.
"I support JDRF because they're spearheading research for life-changing therapies like artificial pancreas systems that have the potential to provide tight glucose control and transform the lives of people living with T1D. But we can't slow down. I believe that including gifts to JDRF in our estate plans is one of the most effective ways we can ensure the elimination of T1D," says Murray.
"We know the type of research that JDRF is focused on is well worth waiting for. We aren't going to find a cure overnight and that takes sustained focus and resources," says Mr. Levin.