Meet Our BETA Society Members
Sally Southard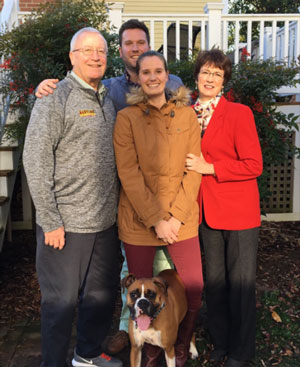 Sally Southard exuberates positivity. Diagnosed with type 1 diabetes (T1D) at the age of 10, Sally has lived with T1D for more than 50 years; and she isn't letting it put a damper on her cheerful personality. "I think how you handle T1D has a lot to do with your attitude," says Sally. "I don't want to feel like a victim. I try to stay upbeat about it."
Having been married, raised two children and worked a demanding nursing job, Sally is an example to those living with T1D. "I want people to know that life can be perfectly normal and you can do whatever you set your mind to. I decided a long time ago that I'm going to control my diabetes and not let my diabetes control me."
Sally was diagnosed in the 1960s, during a time when glass syringes and urine testing were still used to treat T1D. "I actually had to stay in the hospital by myself. My parents couldn't stay. Today, Sally is part of an artificial pancreas trial at the University of Virginia and is looking forward to what's next in T1D technology.
As a passionate JDRF volunteer and the current Board President at the Greater Blue Ridge Chapter, Sally gets excited talking about T1D with others. "The more we talk about life and diabetes, the more we impact other people."
Sally included JDRF in her estate plans in 2008 and knows the amount of work that lies ahead in fulfilling the promise of a cure. "I want to find that cure, and the money needs to be out there. Most people think about their church or their alma mater when planning, but JDRF was at the top of my list. I want the important work JDRF is doing to continue until no one has T1D—I want to work myself out of job!"
To learn more about including JDRF in your estate plans, click here.