Meet Our BETA Society Members
Bryan Berkowitz and Antoinette Taranto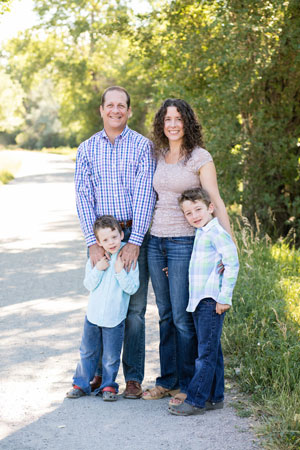 Bryan and Antoinette vividly remember the moment in 2012 when their son, Luciano, was diagnosed with type 1 diabetes (T1D). "He was sick all week. The pediatrician told us he had a virus. On that Saturday morning, we were lying on the couch together," says Antoinette. Luciano was 23-months-old at the time. "He was lying on my lap, waking up only to ask for juice. After he drank his juice, he'd close his eyes again. I thought it was odd he was filling his diaper every 30 minutes. He was working very hard to breathe. I could see the skin on his neck move in and out with every breath, and I knew we needed to go to the ER. The triage nurse asked me repeatedly if he had a fever or if we treated him for a fever, but he hadn't had one." Shortly thereafter, the doctor came in and told Bryan and Antoinette they were right to bring their son in. He had T1D, and would need to be transported by ambulance to Children's Hospital.
"He was in DKA and needed IV fluids. I remember the paramedics asked us to help keep him awake so he wouldn't fall into a coma," says Antoinette. After 48 hours, Luciano's blood sugar had stabilized and he was released from the hospital. "We were sent home without much information," Antoinette recalls. Luciano was scheduled for an appointment at the Barbara Davis Center the next day, but the family spent their first night at home without insulin or education, wondering how they were going to make it through the next 12 hours until the appointment.
Today, Luciano is thriving. His parents have a system perfected that allows him to live a full life and gives them peace of mind. "We try to stick with the 30-carb rule, and let him pick something from the list for each meal that's 30 carbs," says Bryan. Luciano also wears a continuous glucose monitor (CGM), specifically a Dexcom, and Bryan and Antoinette can see his blood sugar level through the Share app on their iPhone. "Having the CGM is like a crystal ball. It has helped instill trust in our babysitter," says Bryan. "Knowing our child is being cared for while we're not there has been our saving grace."
Bryan and Antoinette were introduced to JDRF shortly after Luciano's diagnosis by receiving a Bag of Hope, and became BETA Society members in August 2015. "[Becoming BETA Society members] is one more way we teach our kids how to create a better future. This cause is important to our family," says Antoinette.
"We want our giving to continue," says Bryan. "We know life is short and precious. We don't know what the future holds, and Luciano will, hopefully, outlive us by decades. We want to help continue what JDRF is doing."
To learn more about including JDRF in your estate plans, click here.