Meet our JDRF Global Legacy Challenge Sponsors
Mike Lee, JDRF Global Legacy Challenge Sponsor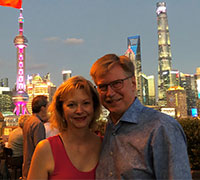 Mike Lee, a BETA Society member and JDRF Global Legacy Challenge Sponsor, is thrilled to partner with JDRFI's global network affiliates. As a Global Legacy Challenge Sponsor, Mike and his fellow sponsors will donate $1,000 to current JDRF-funded research for each new commitment made to JDRF through an estate plan by June 30, 2019.
Mike Lee doesn't let obstacles, such as a diagnosis with type 1 diabetes (T1D) at age 31, stand in his way of success. He's worked in more than 20 countries during his career, and as a JDRF IBOD member and volunteer, Mike has partnered with all of JDRFI's global network affiliates. As a JDRF Global Legacy Challenge Sponsor and BETA Society member, Mike is excited about working collaboratively on a global scale to accelerate progress for today and tomorrow in the fight against T1D.
"Our vision at JDRF is a world without T1D. It's a global disease with a global community. The Global Legacy Challenge allows us to work collaboratively across borders and enables supporters to not only make a local impact, but also a global impact today," says Mike. "We have to partner globally to achieve our mission."
Mike's philanthropic goals align perfectly with what the Global Legacy Challenge offers. "JDRF gave me a wonderful opportunity to personally make a difference on a global scale. Knowing my gift as a Global Legacy Challenge Sponsor will inspire others around the world to include JDRF in their estate plans is an incredible feeling. Estate gifts will provide the fuel for JDRF-funded research beyond what we're generating today," says Mike.
Including JDRF in estate plans can be simple and flexible, allowing you to provide for your own family's needs while also investing in the future of T1D research. "My family views our bequests to JDRF as an 'and' opportunity. We can support JDRF now through our current giving and support future breakthroughs through our estate gifts," says Mike. "I want to ensure my kids and grandkids don't have to deal with T1D, and if they do, I want them to have access to the best therapies until a cure is found. I'm achieving this by investing in their future with a gift to JDRF in my estate plans. We need to make a difference now AND a difference for future generations."
Learn more about including JDRF in your estate plans and the JDRF Global Legacy Challenge.